Many people are stuck at home for days at a time during this pandemic and the biggest worry among the food-secure minority of the world is whether or not they'll get fat from eating their quarantine snacks too quickly, and worse, the fact that their gymnasiums to battle the bulge are closed until further notice. Locally, the Jamaica Moves campaign has taken to social media with info-graphics and live streams replacing workout classes and people are still encouraged to go for solo runs in their communities once of course it's safe to do so. Healthy meals, snacks and fresh produce can be delivered to your house once you can afford the delivery fees or order in large enough batches to get these fees waived. That being said, many people aren't so vocal about the elephant in the room– maintaining your mental health while life as we know it is disrupted.
Even for essential workers, it's not 100% business as usual. Those of us with children have to find alternatives to keeping our children while we're at work since schools and day care centres are closed, our favourite lunch time spots, cafes and recreational centres are closed, there's less staff at work, the streets and malls are sparsely populated compared to during our usual commute to and from work and even at work, the tension is palpable. How do you cope when you can't interact with friends and family as you're used to, you can't get your morning coffee or lunch delivered at work, and when all parties, events and even Jamaica Carnival is cancelled? How do you cope if you already have underlying mental illnesses like depression or anxiety or OCD which is getting triggered by self-isolation and all these sudden changes which are still ongoing as we speak? How do you cope when you're worried about your older relatives with their co-morbidities or worse, have already lost someone to this virus? This is the part of the discussion about staying healthy during the CoVid-19 crisis which is frequently left out, but as someone who has struggled with my own mental health issues since adolescence, I felt it necessary to have this conversation. My tips will be geared mainly to a Jamaican audience, but feel free to read anyway if you're not Jamaican or living in Jamaica. I'm sure you can gain a thing or two.
Healthy Body, Healthy Mind
Physical wellness translates to mental wellness, so while many focus on eating well and working out for aesthetics, you'll reap dual benefits by making sound choices. Plus, if you get the dreaded illness anyway, the healthier you are is the greater your chances of a speedy recovery and less likelihood of complications like pneumonia, requiring ventilatory support or permanent lung damage.
Eat as healthy as you can. Yes, you have to let the quarantine snacks stay guys (I'm guilty of this). I always struggle with finishing my snacks too quickly at home so I try not to buy too many, or any at all. I have zero self control when it comes to snacks and if you do too, I suggest you skip the snacks as well. Cook healthy meals in large batches so you have enough for several meals, and have more sensible snack alternatives like yoghurt, fruit, an open face sandwich or crackers and cheese instead of packaged processed snacks. Purchase fresh fruits and vegetables fortnightly and use frozen or canned vegetables in the interim when those run out until your next grocery visit, or even consider making fresh juices with that produce before it spoils so you'll have a readily available source of vitamins, minerals and fibre even if you aren't shopping as frequently.
Drink eight 8-ounce glasses of water every day. You can meet that quota from unsweetened tea, coconut water and low-fat/non-dairy milk as well, but try to avoid sweet drinks which pack loads of unnecessary calories especially since you're likely not as active as usual. Try to avoid excess caffeine and alcohol intake too.
Move for at least 30 minutes every day. It doesn't have to be anything intense and while many recommend exercise for weight management, it has the dual benefit of endorphin release and decreased production of cortisol which will help your body to handle stress, regulate your appetite and lead to a happier you.
Get as much sleep as you can— 6 to 8 hours per night ideally but we know that's not possible for all of us. Still try to aim for it though, especially on the nights where you're not on duty (ATTN: for myself and fellow healthcare workers).
Stay Connected
The term social distancing has been thrown around a lot during this pandemic, and what that means is staying inside as much as possible, limiting or avoiding social gatherings and public spaces. CoVid-19 is airborne and droplet-spread, and in Jamaica there has been local transmission. Thus, the less time spent in public and even around our loved ones is the smaller our chances of contracting the illness. Every single time you interact with someone else or touch a surface shared by other persons, you're at risk. However, we're living in very fortunate times. Unlike pandemics of the 20th century and earlier, we're able to stay connected via social media, our cellphones, tablets and laptops. Here are some suggestions on how to safely remain connected during the crisis. After all, humans are social creatures and nothing improves our mental health like being in contact with our loved ones.
Check in on your close friends and relatives daily via text or a phone call. Watching and reading their statuses or social media posts do not count. Even sending a word of encouragement or just finding out how are they coping can make a world of difference. If you're the one who needs the support, letting them know how you're feeling so they can know to check up on you can also make a world of difference. With depression it's easy to feel like no one loves or remembers you, like you're bothering the people you care about and like you're just taking up space. Please remember that you're allowed to take up space and you're allowed to need somebody. If that someone forgets, sometimes reaching out to him or her first will remind your person that you're lonely and vulnerable, which will secure your chances of getting someone to look out for you.
Schedule video calls with your friends and family, such as over Facetime, Whatsapp and Skype. You can have the chat open in the background while you workout together, study together, have a watch party for a movie or series, or even have lunch or dinner together. Consider taking on healthy challenges together such as workout challenges, sharing your fitness and food trackers or learn a skill together and share your progress at regular intervals, such as origami, calligraphy, embroidery, mastering a recipe or even writing with your non-dominant hand. Now is the time to share your reading lists with each other too and try to check off a few books.
Use social media responsibly. Follow people and pages which leave you feeling uplifted. Now isn't the time for IG models and negative nancies or anyone or anything which will leave you feeling depleted after interacting with their content.
While it's important to keep abreast of new changes as they unfold, feel free to actually disconnect for short intervals if you find yourself being too glued to your phone or flooded with news that's overwhelming and depressing. Finding out that yet another of your favourite cafes is now closed until further notice can honestly wait until tomorrow. You weren't planning to go out anyway. You know better.
Pamper Yourself
Time together with friends and family is great, but maybe now is the time to take a leaf from the introvert book. The only person you're required to like is the person you're stuck with forever, yet so many of us spend little time getting to know ourselves and enjoying our own company. Well, your schedule's been cleared so now you have no excuse. Here are some ideas:
Start a gratitude journal. Write out at least 5 things you're grateful for each day, even in the midst of this crisis. It will shift your focus and allow you to see the light at the end of the tunnel.
Start a regular journal, and yes, gentlemen I'm looking at you. We women are more likely to confide our feelings in our mothers, partners and female friends but men tend to bottle up their emotions to maintain the 'masculine image.' If you're not yet ready to shed that toxic social programming, at least turn to writing your thoughts out. You'll feel so much clearer afterwards.
Create or update your vision board, bucket list and list of goals and dreams for yourself.
Have spa days at home. Heat your own towels, exfoliate, put on a mask, soak your feet in warm water with baking soda or Epsom salts for extra soothing, use a pumice stone to remove calluses after the water has softened them up, trim and paint your nails or even give your hair a deep condition and light trim. You'll feel so empowered taking care of your own beauty at home until it's safe to return to your salon appointments. If you have a scented candle or diffuser, make sure to use them too for an added aromatherapy boost.
Give your house a thorough clean and declutter. Sort unwanted items into a donate and a toss pile and deal with each pile accordingly.
Keep Occupied
We're a society so focused on productivity that having to slow down during this crisis can leave us wondering what to do with ourselves, but there are so many ways to stay occupied. No, you won't die from boredom.
Keep your same sleep-wake schedule, make your bed, eat a good breakfast, shower and put on clothes that will make you feel productive. Sit at a desk rather than lie down in bed on your laptop. This will ensure you're just as productive as you are at work so you don't fall behind on deadlines. Clock in on time and if your work requires several hours of attention, still try to clock out on time.
In the time you're saving on commuting or if you actually don't have much to do while you're on your covid-cation, use the extra time to do the things you never have the time to do. Work on a home project, do some gardening, reconnect with God and read His scriptures, acquire a skill from a YouTube video e.g. how to do your makeup, or do some reading in a topic of interest. Pick up DuoLingo or some other language learning tool if you're so inclined, and there are websites where you can even get a virtual certificate after completing a free webinar or course e.g. here.
Work on establishing side income and developing your other projects and hobbies. Sign up on a website which allows you to earn from skills you already have such as Fiverr, ClearVoice Inc. and UpWork. Purchase and edit your blog domain to get it exactly as you'd like or create more content for your social media, blog or YouTube channel. You can even use this time to understand the stock market, and good places to start are Goody on a Budget, the JSE wesbite and Every Mickle.
Coping Strategies For Parents
I can't relate but I know a lot of parents must be overwhelmed having to deal with their children at home for weeks at a time. You're used to paying someone to deal with them on weekdays so it's just the weekends you have to get through right? Teachers are having the last laugh now, but parents you'll learn to manage too. These next few ones are for you.
Keep your children on a strict weekday schedule. That is, wake up times (wellll… maybe they can spend an hour or two longer in bed in the mornings to give you some peace), time for school work (yes, you'll have to mark it yourself even if your class teacher emails lessons and an answer sheet) and most importantly of all, a strict bed time of 9pm. Once they're gone to sleep, use the time to work on things for yourself or with your partner.
Use the opportunity for bonding. Involve them in the kitchen, play board games together, have a picnic in the backyard, read together or even work on some art and craft together. Discuss what's happening in the wider world with them and reassure their fears, or if they're rejoicing because they get a chance to miss school, don't be too hard on them.
Seek Help If You Think You Need It
Last but not least, if you think you're not coping well with whatever life is currently throwing at you, there are ways to get help. Check out the following organizations, links and phone numbers if you need it. There's always help available– you just have to ask.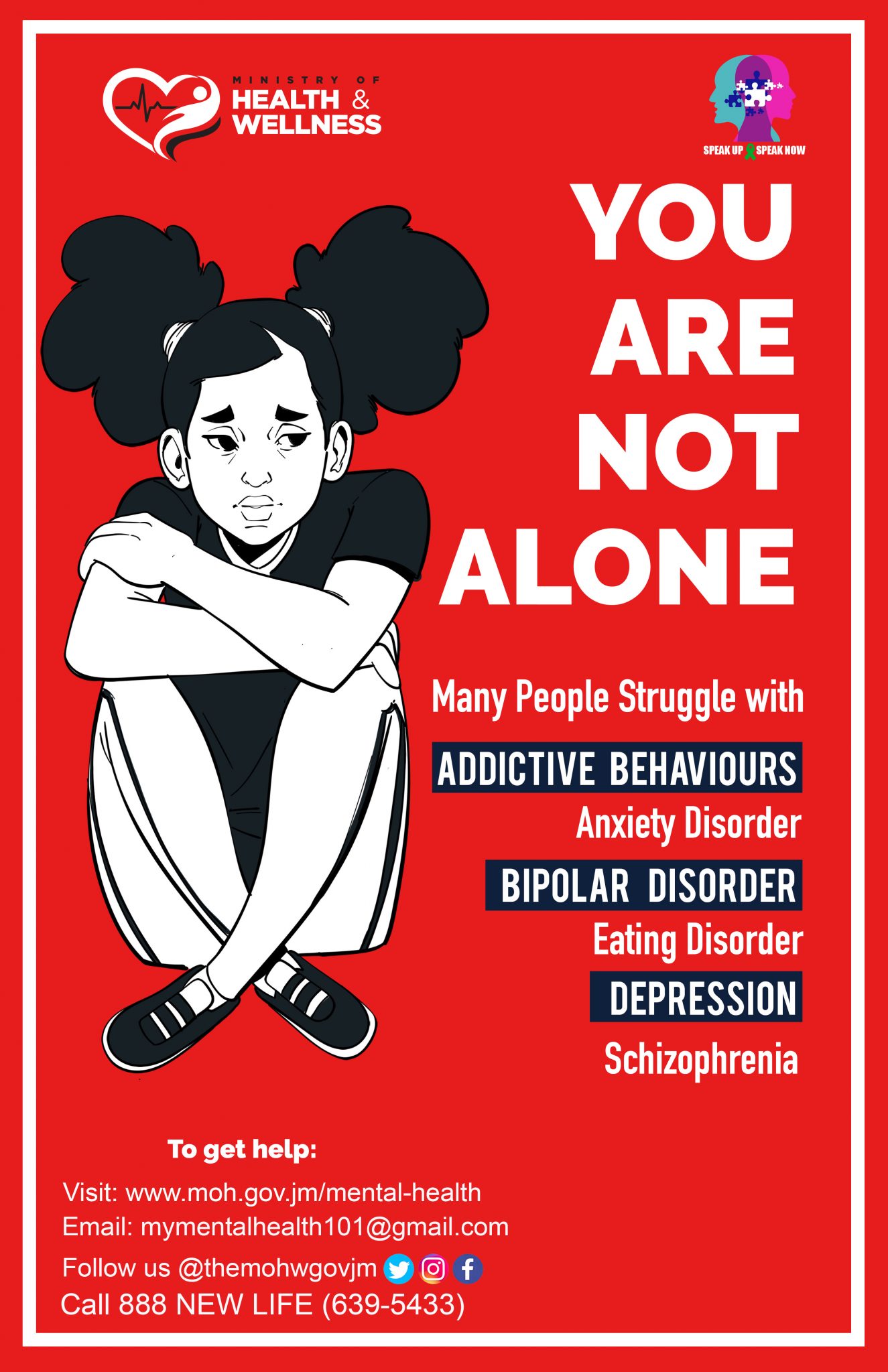 The suicide prevention hotline: 1-888-NEW-LIFE (1-888-639-5433)
Wrap Up
Feel free to refer to this post as many times as you need until life is back to normal, and share it with your relatives and friends. Now is a time where we need each other more than ever, even if we're safer meeting in a virtual space so we can get control of this disease quickly. I decided to release this post ahead of my usual publishing schedule because I felt it too important a topic to waste any more time in getting it out, but don't worry. I already have a next post lined up for Thursday. P.S. I make it no secret that blogging is one of the ways I protect my mental health, so thanks for reading, commenting and sharing. ❤ It's much appreciated.
'Til next time, Rochelle.✌🏽
---
Until the next post, keep up with Elle on Facebook, Instagram and Pinterest. Usual publishing times are Thursdays at 8am.
Read next: Find 100 ways to self care.